AFTER 93 years the BBC has parted with the Met Office, not renewing its contract to supply TV, radio and website weather news.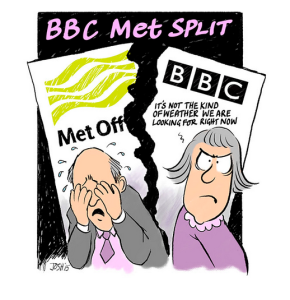 Instead Meteogroup founded in the Netherlands, or MetraWeather, a commercial wing of the New Zealand national weather forecaster, are likely to be providing the weather forecasts.
MetraWeather is already providing weather information to Marks and Spencer and Waitrose, and since 2005 has been providing the BBC with its weather graphics.
Meteogroup is also already providing a weather service in the UK: 60 percent of local authorities with winter weather information.
While the Met Office may have lost the weather contract with the BBC, it's keen to remind the public that it still has the fasts computer, and the capacity to simulate weather across the entire globe. Only problem: it's not very accurate.
Meanwhile Piers Corbyn, from WeatherAction, claims if the BBC want the best forecasts they should use him. Piers relies on the solar wind, and in particular its effect on the Gulf Stream, to forecast weather for the UK.
Information via: http://www.independent.co.uk/news/uk/home-news/jeremy-corbyn-wants-to-run-labour–his-brother-piers-wants-the-bbc-weather-contract-10477395.html
Cartoon via: http://cartoonsbyjosh.co.uk/